Westport Town Hall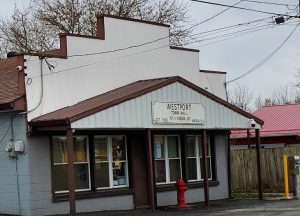 The Westport Town Hall is available for rental by members of the Westport Community.
The cost to rent the Conference Room, with includes the use of one restroom, tables, chairs and kitchen access is $50. Capacity for the room is 30 people. Kitchen has a stove, microwave, refrigerator and sink.
Reservations must be made in advance with the Westport Clerk Treasurer. You may reach the Clerk Treasurer at 812-591-3500 during normal business hours.
The Westport Area Community Building is located at 205 West Main Street. They have two rooms available for rental as well as kitchen facilities. The large room has a capacity of 300. The small room has a capacity of 50. For more information on the building or rental information, please call Connie Davis at 812-614-9764.  
CLICK HERE TO DOWNLOAD A TOWN HALL RENTAL APPLICATION

NOTE: YOUR DATE IS NOT RESERVED UNTIL WE RECEIVE YOUR DEPOSIT.
Be sure to check the Calendar (found on this website) to ensure that the date you requested is available.

Rules for rental of the Town Hall:
The furniture, pictures, banners, etc. may not be moved without permission of the Town Council. If there is a special request, notify the Clerk Treasurer prior to the day of the event.
It is the responsibility of the person booking the facility to arrange for times to get in, and for times to set up if desired.
All scheduling will be done through the Clerk Treasurer's Office and with the permission of the Westport Town Council.
No alcoholic beverages will be permitted on this government property.
No smoking will be permitted in the Town Hall.
The Town of Westport is not responsible for any personal injury or bodily harm during any usage.
The Town of Westport is not responsible for any lost, damaged or stolen personal items at any time.
Youth and children are welcome to use the building, but an adult must be present to supervise. Parents are to be responsible for their children and their behavior at all times.
Kitchen and appliances shall be cleaned of all food and stains after use by the group who has scheduled the activity in the facility.
All appliances shall be turned off after each use.
All trash shall be emptied into sealed plastic bags and placed into a trash container. Trash must be removed from the building to the delegated area.
The floor of the Town Hall shall be cleaned up after each use.
All Tables and chairs should be wiped down and returned the way you received the hall.